More than 40 startups from several industries joined the race for a spot at Uplift Albania acceleration program which today is identified with 50+ industry experts, successful entrepreneurs and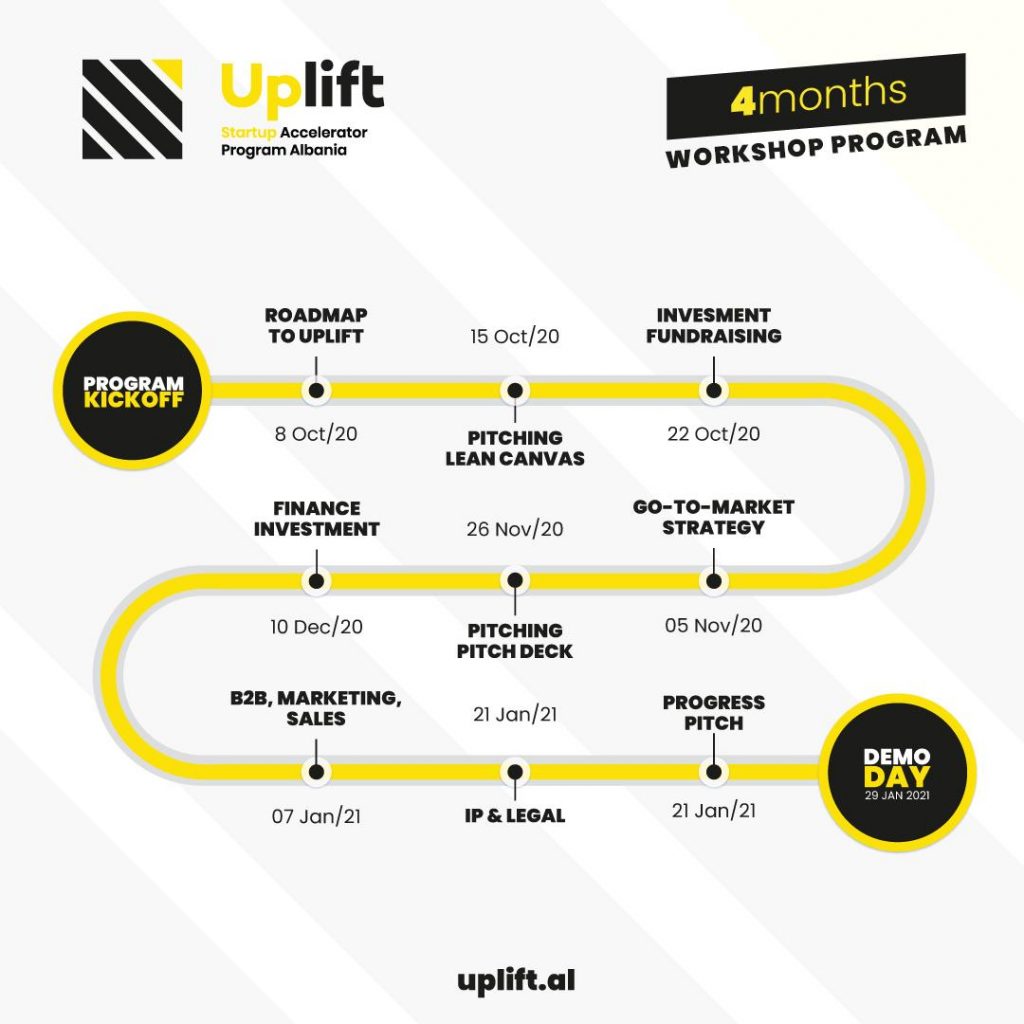 investors from Region and all Europe.
On Friday, September 25, the first phase of acceleration program met its deadline with application closure and the team at Uplift has already started the evaluation phase serving the mission to identify the best of the best during the fierce competition between startups of Selection Bootcamp.
Selection Bootcamp will surely be a long and intensive day with more than half of applications receive to participate this event. Those who successfully climb over selection challenge, during Selection Bootcamp will get the chance to pitch their projects and ideas in front of an audience consisting of mentors, investors and Uplift Albania partners.
These partners will be the determining factor of the rigorous selection process and they have a mission: to identify the best of the best which will be rewarded with Uplift Albania acceleration program.
The meeting is to take place on Saturday, October 3, to select every startup that will join Uplift Albania acceleration program, a 4-weeks long journey filled with workshops, networking session, dedicated trainings and individual mentoring.
Selection Bootcamp Agenda
8:30 – 8:50 – Arrival and Coffee
8:50 – 9:30 – Opening Remarks and Introduction with Selection Bootcamp
9:30 – 10:00 – 1-minute presentation for every startup
10:00 – 11:30 – Workshop #1: Lean Canvas. Problem and Solution evaluation: What startups have to offer for potential consumers
11:30 – 12:00 – Workshop #2: Investing
12:00 – 13:00 – Lunch
13:00 – 13:30 – Workshop #3: Pitching in front of investors
13:30 – 15:00 – Mentoring 1-on-1
15:00 – 16:30 – Final Presentations: 3-minutes presentation + 2-minutes Q&A
16:30 – 17:30 – Startups Selection for Uplift Albania acceleration program
The acceleration program will kick in on October 5 with several workshops every week until Demo-Day on January 29 2021, the final day of presentation and winner's announcement.
Uplift is a non-equity startup accelerator and does not invest in startups. However, thanks to Uplift Albania broad partnerships, sponsors and investors, startups can get up to 50,000-euro investment and 5,000-euro for the best startup. More than 20-mentors and investors will not only assist, but ready to invest at the most promising startups of Uplift Albania.
When the program meets its deadline, Uplift Albania keeps it close relationship with these startups offering them continuous opportunities thanks to ICTSmedia publishing house partnerships, responsible for organizing the event for the second year in Albania and Region.
Uplift Albania is delighted to announced the support of a wide network of sponsors and partners such as SlovakAid, Vodafone Business, SOVVA, Albvision, CIVITTA, EU for Innovation, SwissEp, the Municipality of Tirana and the media support of PCWorld Albanian, ScanTV and GeekRoom.