Digital Entrepreneurship, innovation and startup ecosystem in Western Balkans were the peak highlight of three consecutive weekends of this month with 54 startups and 70 founders from Albania, Kosovo, North Macedonia and beyond applied to join the largest startup accelerator in Western Balkans, Uplift.
To organize one of the most ambitious editions in the quest to find the most promising startups in Western Balkans, the third year of Uplift was a joint effort between SOVVA, ICTSmedia, VentureUP and ICAN with SlovakAid financial support.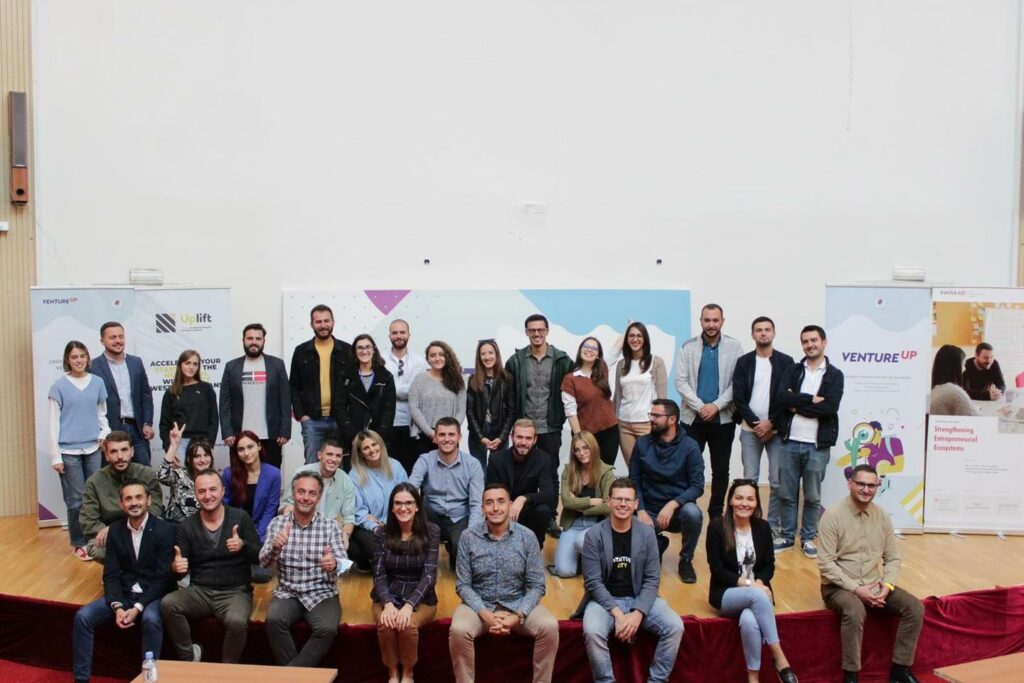 34 startups were invited to join parallel Selection Bootcamp events in Pristina, Gostivar and Tirana on October 2-3, October 7-8 and October 15-16, a phase which precedes the launch of the 4-month acceleration program on October 22.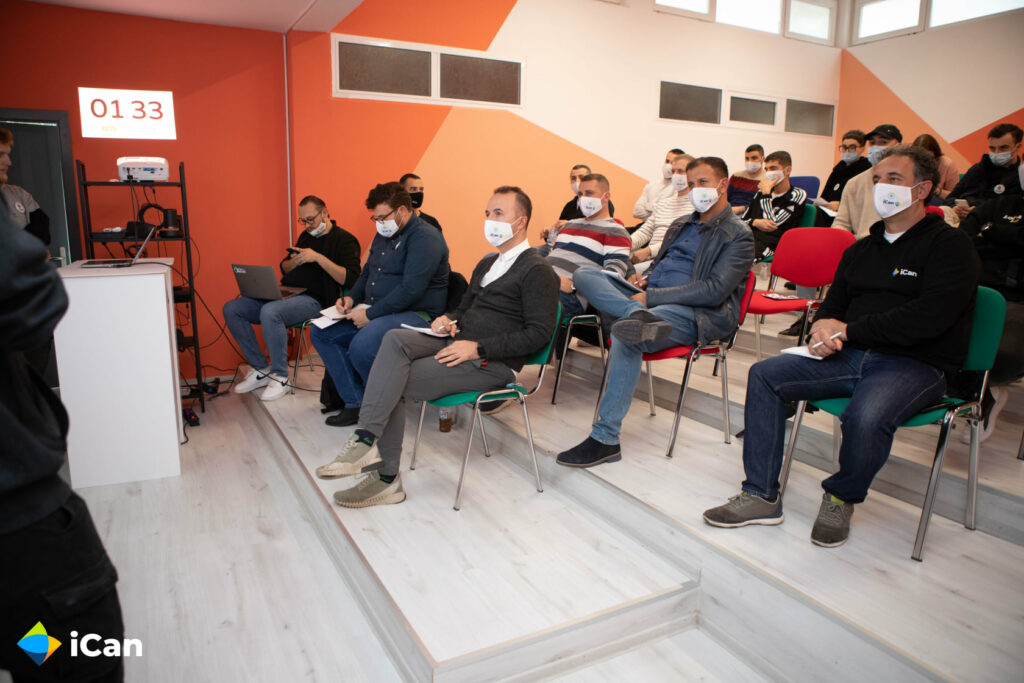 Several mentors, experts, investors, partners and representatives from public and private institutions from Albania, Kosovo, North Macedonia and Europe such as: Peter Kolesar, Michal Laco, Eva Simekova, Kai Pham, Patrick Collins, Igor Madzov, Jaqueline Jaspert, Arta Istrefi, Mentor Rexhepi, Azir Aliu, Kushtrim Shala, Esmeralda Shala, Ardian Alaj, Gentrit Berisha, Llokman Musliu, Kleina Kasanaj, Redjan Ymeraj, Emel Visha, Dairida Metalia, Ervina Hoxha, Ariol Sollaku, Driton Musolli, Paul Will, Eneid Lika, vice minister of Education in Kosovo Edona Maloku Berdyna and vice rector of Pristina University Kurt Sherifi affirmed their support of startups during Selection Bootcamp.
Six days full of mentoring, workshops and pitching, Selection Bootcamp represent a glimpse of a true acceleration program during two intensive days. 1on1 mentoring, Lean Canvas, Investment, Pitching and Pitch Deck, How to scale your Sales and Lead Generation workshops were followed by final presentations of second day reminiscent of the great final Demo-Day.
"My firm belief is that together with our partners from Kosovo and Macedonia we will bring the third edition of Uplift on the next level," co-founder of Uplift Western Balkans Mr. Kushtrim Shala said. "Our ambition is that in the next few years more partners from other countries such as Greece, Serbia or Montenegro will join this venture."
During bootcamp startups pitch their ideas and projects to the Uplift Western Balkans mentors, partners and investors. The latter is the determining factor that will identify and select the best startups that will join part the acceleration program.
"It has been a privilege to work with you, a 4-year long partnership. Every functional startup ecosystem is made possible thanks to these partnerships and communities like you," Mr. Peter Kolesar said, partner at Slovak company CIVITTA.
For 10 years the largest startup accelerator in Central Europe, Uplift, has been organizing such bootcamps with a profound effect on startups. "The experience they gain during this event has often completely changed their lives," Kolesar said.
Jaqueline Jaspert from EU for Innovation and one of Uplift Western Balkans key partners described the event as a great opportunity for startups to expand their network.
The expansion of Uplift Western Balkans in Kosovo and North Macedonia this year was made possible thanks to the partnership with VentureUP and ICAN. "We are privileged and happy to be part of the third edition of Uplift," said Mentor Rexhepi from VentureUP.
A variety of industries such as E-Commerce, Education, Agriculture, Marketing, Consulting, Development, Online Learning, Medicine, Architecture, Engineering, Photography and Fashion represented 14 startups from Albania, 10 startups from Kosovo and 10 startups from Macedonia to present their ideas and ventures in Uplift Western Balkans.
With the winner's announcement, the acceleration program kicks in on October 22. More than 50 industry experts from region and Europe will teach and support startups on their journey towards the Demo-Day. Besides the amazing experience they gain on the development and growth of a successful venture, Uplift Western Balkans represents a unique opportunity, access on a network of investors and one the key advantages of being part of a startup accelerator.
After Selection Bootcamp, the acceleration program kicks in on November 6. In the frame of Uplift Western Balkans, Bridge2EU 5-day study program in Slovakia will take place. 12 startups will be selected for their 5-day studying program in Slovak Capital of Bratislava. During this trip they will explore a true European startup, accelerator, incubators and innovation ecosystem.
Lots of mentoring, networking, investment opportunities and chances to scale their businesses internationally will lead startups during 4-month acceleration program. Uplift Western Balkans will announce the winners January 17 Demo-Day.
The first startup accelerator to be founded in Albania has a broad network of partnerships and supporters such as: Credins Bank, Albvision, EU for Innovation, SwissEP, Huawei, CIVITTA, SEEU, Tirana Municipality, EY, ICTSlab and media support of SCAN TV, Emerging Europe, Shqip.com, PCWorld Albanian, BusinessMagazine, GeekRoom and CIO.al.
Startups to join Uplift Western Balkans
Drejtshkruaj
drejtshkruaj.com is an all-in-one AI powered online platform that provides grammar, spelling, punctuation, and style checks for Albanian.
TePemaTM
Te Pema is a green and sustainable design living space solutions company that operates in the Smart & Sustainable Cities industry.
VR Drive
VR drive is a car and road simulator in Virtual Reality Platforms, which is going to be used in driving schools to teach students first driving lessons.
Riobotics
Riobotics is a STEM education company with robot products for beginners, that memes teaching and learning robot simple and fun.
ARMMA
ARMMA is a sustainable fashion brand based on the idea of creating modern clothes by reducing their negative environmental impact.
GoConf
GoConf.io is aiming to develop the first online platform to handle ICT conferences globally. The platform will be the place to go when you need to find a conference and also manage the ones you're planning to visit.
Hygiot
We are a team that aims to help autistic people by providing them a safe environment to train different required skill sets.
Bus Tracking
Tracking Bus Tracking is an application for tracking buses in real time. The bus tracking app will be available in two applications.
Spyvio
Spyvio helps you access insider information of your competitor's ads, funnels & emails from the outside. Replicating successful & profitable campaigns has never been easier.
Pinca
PINCA is the first regional platform connecting Albanian freelancers and students with opportunities abroad.
HAJDE APP
Targeting the Albanian & Kosovo Market, it empowers users to shop from their favourite grocery shop & restaurant, straight from their phone.
ArchiGames
ArchiGames – Learn Architecture by Playing, aims to improve the way we teach, educate and learn the objects that surround us by turning learning into play and fun.
Immortelle
Is focused on creating a movement supporting the cultivation of premium quality herbs in the villages, located near the capital city Tirana.